The Riing Quad is an RGB-LED fan from Thermaltake that is illuminated in four zones. Of its 54 RGB LEDs , 18 are each in the two outer light rings. Nine additional LEDs with 16.8 million colors each illuminate the milk-white transparent rotor blades in the two inner rings from the center of the fan outwards . This four-zone lighting gives the fan its name.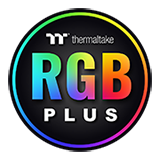 The Thermaltake-Riing-Quad-12-RGB-TT-Premium-Edition-Radiator-Fans at a glance:
Thermaltake Riing Quad fan in a pack of 3
Four light rings and 54 addressable LEDs per fan
Configurable with extensive NeonMaker light editing software
Designed for high static pressure & optimized for radiators
Extremely quiet thanks to the hydraulic bearing
Including RGB controller
The Thermaltake-Riing-Quad-12-RGB-TT-Premium-Edition-Radiator-Fans in detail
Thermaltake offers the Riing Quad 12 RGB radiator fan as a three- piece set of 120 mm fans , which is predestined for use with a 360 mm radiator . Thermaltake ensures a particularly high static pressure of 1.4 mmH2O and a delivery volume of 69.4 m³ / h. The maximum speed of the Riing Quad fan is 1,500 rpm at only 25 decibels.
To further optimize the background noise, the Thermaltake Riing Quad fan has a particularly low-noise hydraulic bearing. The entire housing of the fan is rubberized, which helps to reduce vibrations.
Hints:

Attention: An RGB controller from Thermaltake is included to control the lighting effects. It controls the fans via the USB interface and can change the speed as well as the lighting. For the software, Thermaltake relies on its in-house solution NeonMaker Light Editing.
Attention: The Thermaltake Riing Quad fan has a 9-pin connector which is identical to the 9-pin USB 2.0 connector. Under no circumstances should the fan be connected directly to a 9-pin USB port on the mainboard.
Technical details:
Dimensions: 120 x 120 x 25 mm
Weight: 189 g (per fan)
Material: Plastic
Color: white
Volume: max. 25 dB (A)
Speed: 500 - 1,500 rpm
Delivery volume: max. 69.4 m³ / h
Air pressure: max. 1.4 mmH2O
Power consumption:

12 V / 0.09 A, 5 V / 0.9 A (per fan)
12 V / 3.24 W, 5 V / 13.5 W (three fans)

Lighting (per fan):

4 separate rings, a total of 54 RGB LEDs (16.8 million colors)
Connection: 9-pin (can only be used with the enclosed controller)
Software: NeonMaker Light Editing

Scope of delivery:

3x Riing Quad 12 fans
1x controller 1x controller cable
1x bridge cable
1x power cable (on 4-pin Molex)
12x short screws
12x long screws
1x double-sided adhesive tape
More information for

"Riing Quad 12 RGB Fan TT Premium Edition - 3-Pack, White, 120mm"



More details
| | |
| --- | --- |
| Rotor diameter | 120 mm |
| Mounting holes | 120 mm |
| Primary color | white |
| Secondary color | transparent matt / frosted |
| Fan connector | 9-pin, only with controler |
| Lighting | yes |
| Lighting color | RGB (selectable) |
| LED connectors | only via controller, 9-pin |
| LED compatibility | non (own controller) |
| max.RPM (exact) | 1,500 rpm |
| min.RPM (exact) | 500 rpm |
| Max noise level (exact) | 25 dB (A) |
| Max air volume (exact) | 69.4 m³ / h |
| max.RPM | 1,500 - 1,999 rpm |
| min.RPM | 500-749 rpm |
| Max noise level | 25 - 29 dB (A) |
| Max air volume | 50 - 74 m³ / h |
| set | 3x |
Manufacturer:
Thermaltake