XD3 RGB PUMP/RESERVOIR COMBO
The CORSAIR Hydro X Series XD3 RGB Pump/Reservoir Combo is ready to drive even the most compact custom cooling systems. An adjustable Xylem DDC PWM pump provides a powerful flow rate for multi-block loops, while an integrated 180ml reservoir with a titanium matte white finish ensures the XD3 fits easily into most systems. 16 Built-in RGB LEDs provide vibrant customizable lighting with motherboard control using the included adapter cable, or powerful CORSAIR iCUE software control when combined with a CORSAIR iCUE RGB Lighting Controller (sold separately). An included temperature sensor gives you real-time performance data from inside your system, for accurate cooling adjustment. Universally compatible with G1/4 fittings and with both 120mm and 140mm fan mounting brackets included, the XD3 RGB Pump/Reservoir is the heart of your custom cooling system.
CONTROLLED COOLING WHEREVER YOU NEED IT
A high-performance Xylem DDC PWM pump controlled via PWM to deliver the perfect flow balance for your loop.
DYNAMIC MULTI-ZONE RGB PUMP HEAD
16 Individually addressable RGB LEDs light up the pump head to produce stunning, customizable lighting effects to match your build.
COMPACT FORM FACTOR
The XD3's unique size and shape fits easily inside most systems, powering even the most compact custom cooling loops.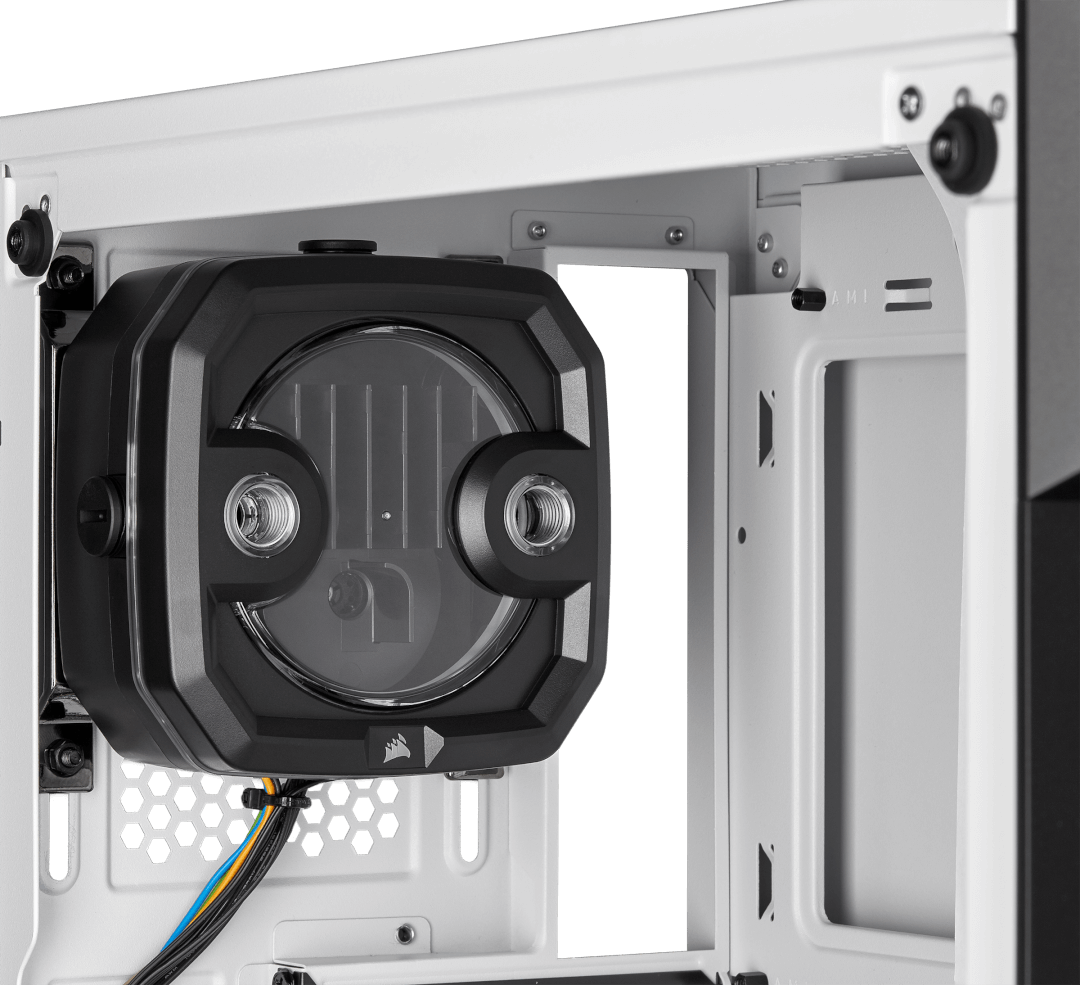 YOUR COOLANT ON DISPLAY
The integrated 180ml reservoir puts your custom cooling system's coolant front-and-center, with stunning angular design and an integrated fill port that makes filling, flushing and topping-off coolant easy.
TITANIUM MATTE WHITE FINISH
Matches the modern aesthetic of other white CORSAIR products in your setup.
IN-LOOP TEMPERATURE MONITORING
Integrated G1/4 temperature sensor provides real-time coolant temperatures from inside your cooling loop when connected to a CORSAIR iCUE COMMANDER PRO or COMMANDER CORE (sold separately).
INCLUDED ACCESSORIES GO AN EXTRA MILE
Jumper cable allows you to start your pump without powering your main components, for easy and safe filling.
Control lighting effects directly on compatible motherboards by using an included 5V ARGB adapter cable or connect to a CORSAIR iCUE Controller (sold separately) and powerful CORSAIR iCUE software to customize and sync RGB lighting across all your iCUE-compatible products.
RUBBERIZED MOUNTING SYSTEM
Reduces pump vibrations and noise, so your custom cooling loop is seen, not heard.
MULTIPLE INSTALLATION BRACKETS
Easily mount the XD3 RGB Pump/Reservoir to a 120mm or 140mm fan mount or fan for wide chassis compatibility.
TECHS SPECS
Product Type: Pump / Reservoir Combo
Warranty: 3 years
Port Thread: G1/4'' BSPP
Fluid Chamber Material: Nylon
Pump Type: Xylem DDC 3.2 PWM9
Liquid Capacity: 180ml
Flow Rate: 380L/h at 2.1m pressure head
Speed: 4800RPM
PWM: 20-100%
Operating Temperature: 60°C coolant temperature
Color: White
Lighting: RGB
Compatibility - Material: Only mix with other copper / brass products
iCUE Compatibility: CORSAIR Commander PRO / Lighting Node PRO
Voltage: 12V
Power draw: 18W
Cable Type: 4-pin Molex (AMP Mate-N-Lok) - 53cm cable length
Connectivity: 4-pin fan header (KK254)- 68cm cable length
PAKAGE CONTENT
XD3 Pump Res Combo
120 mm fan bracket
140 mm fan bracket
Perpendicular mounting bracket
ATX Jumper Bridge
G1/4'' Temperature Sensor
3 x G1/4'' stop plugs
Mounting screws
RGB adapter cable
Plug tool
Quick Start Guide
Manufacturer:
Corsair Hydro X