The MCP65X series housings are replacement parts compatible with all MCP655 and Laing/Xylem D5 series pumps.

They are precision machined from black Acetal or Clear Acrylic.

Improvements compared to the stock housing comprise:
Standard G1/4 thread class for inlet and outlet ports allow to choose which fittings and tubing size to use;
The outlet port is perfectly aligned to the volute exit path, improving hydraulic performance;
The mounting brackets can be oriented for horizontal or vertical pump installation;
Four G1/4 ports allow three possible flow path configurations: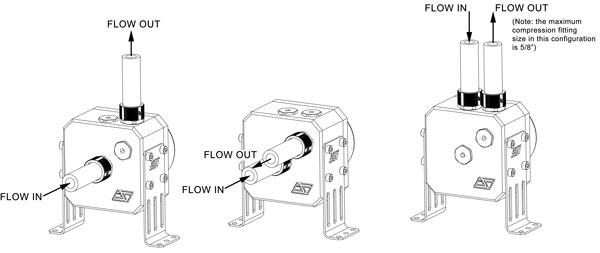 Included accessories:
(2) G1/4 plugs
Installation hardware
Documentation

Important warranty information
Installation of this housing to your existing MCP655
does not void your pump warranty
, to the exception of any damage(s) caused to the pump as a result of exposure of its internal circuitry to moisture, including but not limited to due to a defect in material or workmanship in the housing itself, or incorrect installation: in effect, it is the express responsibility of the user to ascertain that the assembly is leak-free, and that the housing is free of possible accidental defects that could affect the seal between itself and the pump body prior to installation, as well as to install the product properly.

Moreover, while all efforts have been made to provide the most comprehensive installation tutorial possible, Swiftech® assumes no liability expressed or implied for any damage(s) occurring to your components as a result of using Swiftech® cooling products, either due to mistake or omission on our part in said installation tutorial, or due to failure or defect in the Swiftech® cooling products. Finally, Swiftech™ assumes no liability, expressed or implied, for the use of this product, and more specifically for any, and all damages caused by the use of this product to any other device in a personal computer, whether due to product failure, leak, and electrical short, and or electro-magnetic emissions.