ap.o.gee
:
The farthest or highest point; the apex; a final climactic stage
The Apogee™ XL2 is Swiftech's new flagship CPU waterblock. This is the same waterblock featured in Swiftech's Award Winning Drive X2 series liquid cooling kits, and it is now being offered for sale individually. It features:
Fine-tuned thermal performance and mounting system for the most recent Intel® and AMD® processors.

Reduced flow restriction compared to previous generation Apogee XL.

Visual enhancements with the use of a clear acrylic body, lit up by Adressable RGB LED's and controlled by the included Swiftech's Iris ALED controller.
SUMMARY

Improved Performance

Average 1.0ºC better thermal performance than the Award Winning Apogee™ HD

Low To Moderate Flow Restriction

~5% less flow restriction than the Apogee™ XL

Processor Compatibility

Socket 115X series
Socket 2011 series
AMD Desktop processors series: sockets 754, 939, 940, AM2/+, AM3/+, F, FM1, FM2

Fittings compatibility:
Comparative Temperature Data:
The following graphs reports the data collected from testing performed with actual retail processors under 100% load using CPU Burn. Published results are the best of a minimum of 5 mounts. These results are indicative of our test bench settings and of the tested processors only. Results may vary from one processor to another. Competitive data is provided hereafter for comparative purposes, and is only representative of the specific waterblock samples tested here. Two samples of the same competitive blocks were used for validation purposes.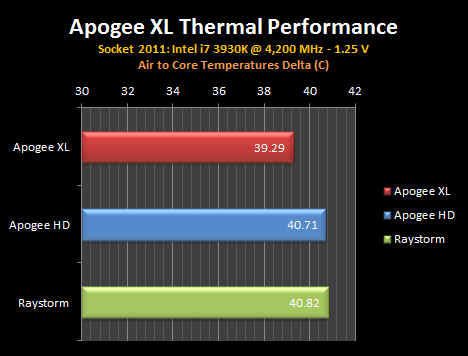 Note: "Air to Core Temperature Delta" means the difference between the average CPU core temperature and the average air temperature. This reporting method reflects the true efficiency of the cooling system because it eliminates ambient air temperature variations in the data being compared. Users are cautioned that the above data is provided for reference only, and is not directly comparable with CPU temperature values collected a) from an enclosed chassis and b) without deducting ambient air data.
Test Setup Configuration:
Open bench MCR 320 Drive Rev3 with (3) Gentle Typhoon Fans running @ 1850 rpm

MCP35X pump running @ 4500 rpm

Air temperature as reported by (3) individual thermal probes located at each fan inlet, with air temperature values collected at one second intervals and mathematically averaged over the duration of the test.
---

---

The base-plate is precision-machined from C110 copper. Thermal design of the cooling engine is characterized by Swiftech's fin/pin matrix composed of 225 µm (0.009") micro structures; the matrix has been further refined with variable width cross channels to improve flow rate without affecting thermal efficiency.

Dimensions:

Base Plate: 60x60mm

Waterblock Net Weight: 8.4 ounces (238 grams)
Nog geen berichten gevonden.
Voeg als eerste een bericht toe!
Wij stellen dat zeer op prijs.
Andere klanten kochten ook